WCC was thoughtfully designed to accommodate vacation campers who appreciate
the beauty and tranquility of nature as well as the convenience of a full-service seasonal site.
(To keep true to this vision, WCC does not offer Overnight and Weekend site rentals to the public.)
---
O u r L o c a t i o n . . .
Winding Creek Campground offers 50 acres of unspoiled nature located in the center of the Big Roche a Cri Fishery Area in Leola Township, Adams County. Campers will find over-sized wooded campsites with water, electric, and sewer service. The mission of Winding Creek Campground is to create that special getaway for campers who seek a large and quiet place to relax and enjoy nature.

Campers will have access to nearly one mile of meandering Class 1, Outstanding Resource Water Trout stream that runs through our campground. This is part of the Big Roche a Cri Creek and surrounded by the Big Roche a Cri Fishery Area* to the east and west ends of our campground. (A fishing license and Trout Stamp is required for stream fishing.) Winding Creek Campground has a private fishing pond. (No fishing license is required for pond fishing.) Winding Creek Campground also has a separate and beautiful sand beach and swimming pond for summer fun. Winding Creek Campground is home to abundant wildlife and birds where visitors can walk trails and enjoy these gifts.


*The Big Roche a Cri Fishery Area is also public hunting land for deer, turkey and small game.
---
O u r M i s s i o n

Our mission was to build a very unique "All Seasonal" campground with extremely large sites that give the feel of a state park setting with abundant nature of woods, birds, wildflowers, ferns and deer. We will promise a quiet, friendly atmosphere without the busyness that come with weekend reservations, a crowded store, restaurant, or bar.

Instead, we encourage and plan many group activities that involve the entire family and all of our seasonal families can relax and enjoy camping with friends. We allow our seasonal families to have visitors without per person admission charges as this has never been abused. We have (2) campsites for seasonal visitors who may have their own camping unit.

We have a playground, swim pond, fishing pond, hiking trails and daytime creek-side picnic areas for fishing, bird watching or simply relaxing. We live on site in this beautiful atmosphere all year and have the opportunity to make many friends that share common appreciation for nature.
---
September Sale (9/1-9/30/16)
$100.00 discount off any available campsite for 2017
(limited availability)
Reserve your new campsite for 2017
and enjoy fall camping until October 16,2016
​at no additional charge

S i t e s A v a i l a b l e
f o r 2 0 1 7 :
P2 P8
B1 B10 C4 D3 D5 E1 E4 F2 F8 F9 G1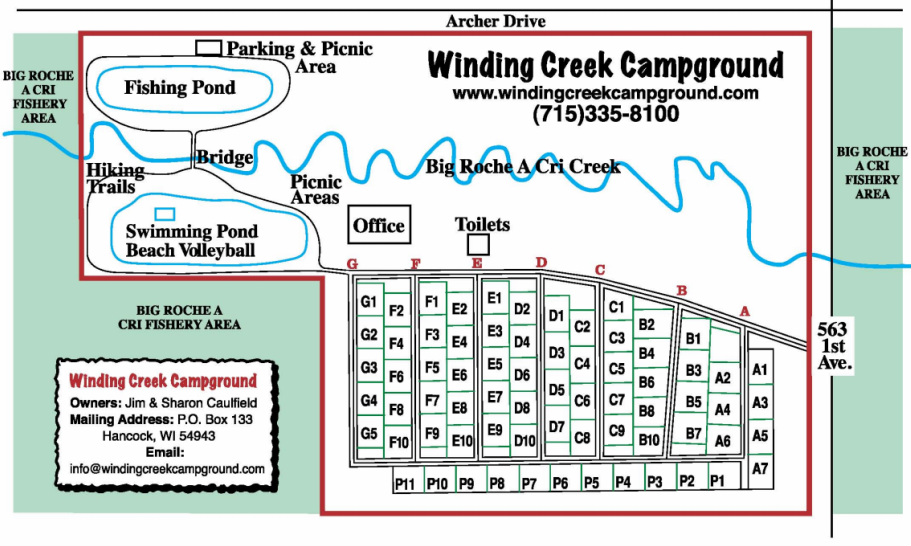 SAVE BIG ON YOUR NEW 2016 SEASONAL CAMPSITE AND
RESERVE THE CAMPSITE FOR THE 2017 CAMPING SEASON
Winding Creek Campground has completed the final phase of campsite construction.
Call for an appointment to visit and reserve your seasonal campsite today.
(All site availability subject to change.)
---
2 0 1 6 E v e n t s*
Season Opening
Friday, April 15, 2016

Trout Season Starts
Saturday, May 7, 2016

Memorial Day Weekend Potluck Brunch
Sunday, May 29, 2016 - 9:00AM

Potluck Pig Roast
Saturday, June 25, 2016 - 5:00PM

Celebrate AMERICA Beach Party
Sunday, July 3, 2016
Cardboard Boat Races - 1:00PM
Beach Games - 2:00PM or immediately following the boat races (toddlers through adults)
(no fireworks; decorate your site: Red, White and Blue)

Potluck Corn Roast and Car Show
Saturday, August 6, 2016
Car Show - 2:00PM
Potluck Corn Roast - 5:00PM

Labor Day Weekend Grill Your Own Steak Potluck
Sunday, September 4, 2016 - 5:00PM
(orders will be taken)

Chili Dump
Saturday, September 17, 2016 - 5:00PM

Haunted Halloween
Saturday, October 1, 2016
Campsite Trick or Treating 5:00PM
Haunted Trail Walk - 8:00PM

Campground Season Closing
Sunday, October 16, 2016


*Campers: Be sure to watch the Information Board, Newsletters, Emails, and the WCC Facebook Page for Event Details.

---
WCC is an authorized distributor of